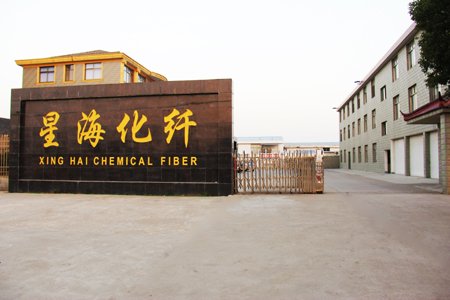 Yizheng Xinghai Chemical Fiber Co., Ltd was founded in 2002,located in Yangzhou city(Yizheng) of Jiangsu Province with convenient transportation,having an area of 20,000 square meters. Its fixed assets is about 40,000,000 yuan.With the high-tech and automatic equipment,excellent technicians.We have 186 employees who have educational background of junior colleges and abundant experiences,our products contain a rich of science and technology,attachment value,and face to a consuming market with high-end consumers. The annual output value reached to 150,000,000 yuan.

Our company was awarded as Jiangsu Privately Operated Scientific and technical Enterprise in June,2003,Jiangsu Advanced-New Technical Enterprise in 2005.Jiangsu Private Scientific and Technological Enterprise in 2009.Jiangsu Private Scientific and Technological Enterprise Inc in 2012.We have gained 13 national patent,with the Yangzhou well-known trademark Xinghai.We are also certified by ISO9001、ISO14001、ISO18001 in quality management system.

Under the hard working workers and advanced equipments for several years,we supply series of differential fiber with four compound spinning lines and four FK6-1000 team machines. we own 3000 chenille spinning machines and affiliated facilities.We have invested full automatic switching winder,one step spinning composite spinning line,which is the import electrical control equipment and 6 tons of boiler.Now we are able to supply series products of filament,Chenille yarn, carpets,clothing,cleaning articles,home textile and so on.



Contacts:Mr.zhou(general manager)
Tel;:0514-83666088
Mobile:13905252205
Fax:0514-83666288
E-mail:master@jsyzxh.com
website:www.jsyzxh.com
address:Maji town Yizheng city Jiangsu province
postcode:211414